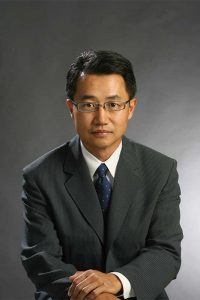 Dr. Kenneth Cho has been the premier dentist in La Habra for over 25 years, serving the communities of La Habra, Brea, Fullerton and Whittier.
Kenneth Cho, DDS, studied dentistry at the University of Southern California in Los Angeles and graduated in 1991 with his Doctor of Dental Surgery degree. His training includes knowledge of basic dental care and research into the latest innovations. He continues to stay up to date on groundbreaking technology to provide his patients with the highest level of care available.
In 1992, he opened his dental practice, Dr. Kenneth Cho Dentistry, in Whittier, California. He served patients in that location with gentle, professional care for 20 years. In 2012, he upgraded his office, moving to the current location in La Habra. Dr. Cho enjoys meeting people and helping them through their treatment until they have attained their oral health goals.
Dr. Kenneth Cho and his wife have two children. When he is not caring for patients, Dr. Cho enjoys playing guitar and attending concerts with his wife.
Meet Our Team
Our friendly dentist and team are happy to welcome you to our practice! Our team excels at helping our patients feel safe and comfortable in the dental chair. Call Kenneth Cho Family Dentistry at (562) 697-3008 to schedule an appointment with Dr. Cho and learn more about dental care in La Habra, California. Join our dental family today!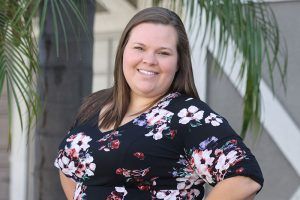 Candice graduated from college in 2009 and became a registered dental assistant in 2011. She has been in full swing with Dr. Kenneth Cho since 2016. Candice is a friendly and familiar face here at our office; over the years she has been able to develop a genuine connection with our patients and their families. She went from taking X-rays in the back to becoming the leader of our powerful team. She works diligently to assure that things run seamlessly and that every patient receives nothing less than a five-star experience!
When Candice is not taking care of things at the office, she is spending as much time as she can with her husband and two sons along with their newest addition to their family, their fur baby Bailey.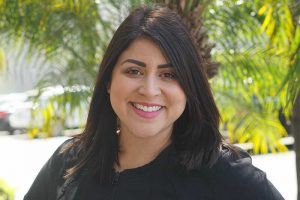 Starting from a young age, Denise always had a liking for all things teeth-related and knew she wanted to be in the dental field when she grew up. Denise went to Cal Poly Pomona and graduated with her Bachelor of Science degree in biology. In her last semester of college, she shadowed dental offices and realized she wanted to become a dental hygienist. After graduating CPP, she was accepted into West Coast University for their Bachelor of Dental Hygiene Program. Denise graduated WCU and soon began working as an RDH in 2011. Aside from working as a dental hygienist, Denise is busy with her two young daughters and loves trying out new restaurants and traveling.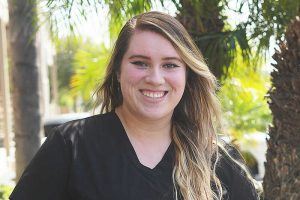 Elizabeth
Dental Assistant
Elizabeth has been in the dental field for four years. She graduated from college in 2015 and has loved working in dentistry ever since. Elizabeth is a very artistic individual and enjoys the fine arts, which is very similar to dentistry. This admirable attribute is very important in the dental field, as it allows her to perfect the masterpiece that is your smile! Elizabeth is a great team player and is always advancing her involvement in the office and with our patients. She can be described as a very reserved and hard-working professional. When she is not taking your X-rays and polishing your teeth, she loves to watch movies with her son Ethan. You can find Elizabeth and her son at your local movie theater up to date on all the newest releases.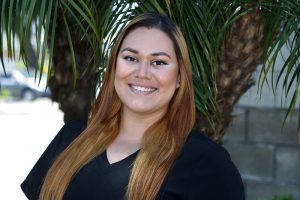 Jackie has been working in the dental field for a little over three years now. She is the newest addition to our office and has been in full swing with Dr. Kenneth Cho since mid-2019. She is the friendly face you see when you come into our office. Behind her beautiful smile is a woman who is passionate about getting to know all our patients and making sure they receive quality service and attention. She will also be the one taking care of all your appointment needs. When Jackie is not taking care of our patients, she is enjoying spending time with her family and the outdoors. She loves hiking, going to the beach and she is always up for a new adventure.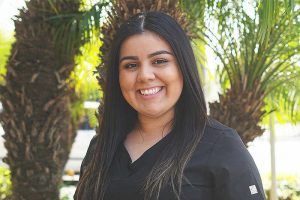 Zulema achieved the highest honor of graduating at the top of her class in 2013 for dental assisting. Her positivity and willingness enabled her to enter the field of dentistry immediately after graduation. Zulema is a person who is naturally outgoing, friendly and has the spirit of laughter. These lovable qualities allow patients, who are usually anxious about the dentist, to always feel comfortable during any procedure. Her smile is infectious and so is her laugh! Her passion for being a dental assistant shows in her authentic patient care. When she is not hiding behind a mask, she loves taking her pit bull, Rexx, to the park with her husband and son.